Descriere
AMINO BUILD ELITE – A MEGADOSE OF COMPLEX, PREMIUM NUTRITIONAL SUPPLEMENT IN CAPSULES, WITH A UNIQUE COMBINATION OF AMINOSYNTH FORMULA AND GLUTAMINE AMINO ACID.
IN 1 SERVING (4 capsules):
3,000 mg L-glutamine
2,000 mg AminoSYNTHTM formula
1,000 mg calcium alpha-ketoglutarate
1,000 mg magnesium pyruvate
1.4 mg vitamin B6
2 mcg vitamin B12
200 mcg folic acid
46.4 mcg molybdenum
The AminoSynthTM blend in Amino Build Elite contains metabolites (metabolic compounds) and vitamins which your body uses to synthesise amino acids. With the help of these, it can make sure that cells always synthesise the amino acids which they actually need.
The product's vitamin B6 content contributes to normal protein and glycogen metabolism, as well as to controlling hormonal activity.
The product's folate content contributes to normal amino acid synthesis.
The product's magnesium content contributes to normal muscle function and normal protein synthesis.
Like all BioTechUSA products, the products of the new Elite series, such as Amino Build Elite, consist of safe and carefully selected ingredients.
Directions: – 4 capsules before a meal, on training days directly after workout.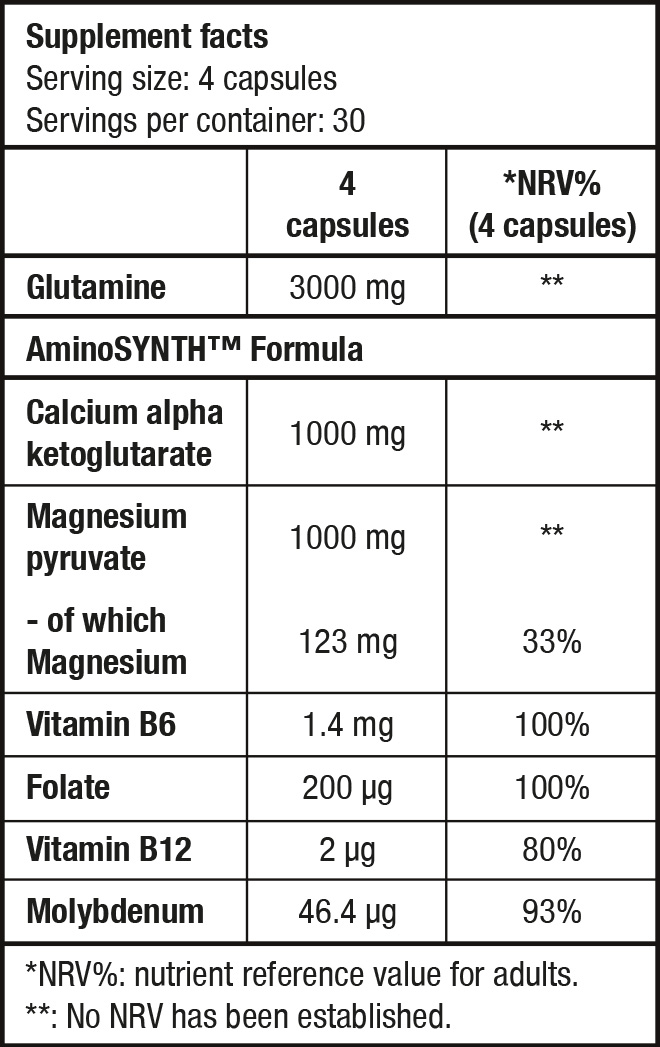 SANAPRO – 3G PERSONAL SRL distribuitor: BioTech USA | Brutal Nutrition | Devil Nutrition | Muscle Army USA |Muscle House | Scitec Nutrition | Strength Nutrition |
NOTĂ: Din cauza fuxului dinamic de marfă din depozit, pot apărea uneori situaţii când unele produse pot fi epuizate iar acestea nu vor putea fi livrate! In acest caz veti fi contactati telefonic sau prin email de un operator SANAPRO.