Descriere
BCAA 8:1:1 Cola – Flavoured BCAA Powder with an increased l-leucine and low carbohydrate content.
Per serving (9 g):
4,480 mg L-leucine
560 mg L-isoleucine
560 mg L-valine
BCAAs belong to the 9 amino acids essential for the human body, which means your body is incapable of producing it itself and needs food or supplements to get these very important nutrients. BioTechUSA's BCAA 8:1:1 contains an increased amount of leucine, the first protein building amino acid to be used by your body.
Like all BioTech USA products, the flavoured BCAA 8:1:1 consists of safe and carefully selected ingredients.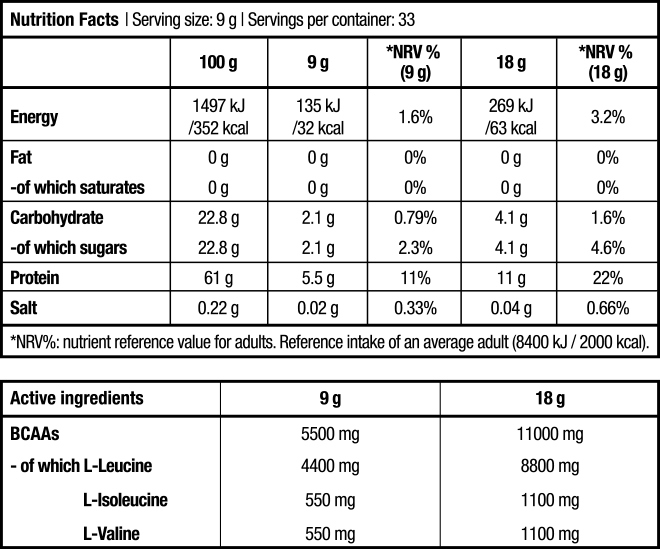 Directions
Mix one serving (4 measuring spoons) with 300 ml water and drink before workout / directly after workout.
Ingredients
61% BCAA (L-leucine, L-isoleucine,L-valine 8:1:1), dextrose, colour (ammonia caramel),acid (citric acid), flavourings, anti-foaming agent(dimethyl polysiloxane), sweetener (sucralose), salt.

SANAPRO – 3G PERSONAL SRL distribuitor: BioTech USA | Brutal Nutrition | Devil Nutrition | Muscle Army USA |Muscle House | Scitec Nutrition | Strength Nutrition |
NOTĂ: Din cauza fuxului dinamic de marfă din depozit, pot apărea uneori situaţii când unele produse pot fi epuizate iar acestea nu vor putea fi livrate! In acest caz veti fi contactati telefonic sau prin email de un operator SANAPRO.