Descriere
CAPSULES CONTAINING A 2:1 RATIO OF CALCIUM AND MAGNESIUM.
PACKAGING: 90 capsules (45 serv.)
IN 1 SERVING:
500 mg Calcium
250 mg Magnesium
Double power
Calcium Complete features a 2:1 ratio of calcium to magnesium. Calcium and magnesium are essential for healthy teeth and bones, contribute to the normal energy-yielding mechanism of the body, support optimal muscle function. Calcium is needed for the maintenance of normal bones and teeth, whilemagnesium contributes to the maintenance of normal bones and teeth.
Nutritional supplements must not replace a balanced, varied diet and a healthy lifestyle.
DIRECTIONS: As a dietary supplement, take 2 capsules per day.
INGREDIENTS
Calcium carbonate, magnesium oxide, capsule shell [gelatin, purified water, colour (titanium dioxide)], emulsifier (dicalcium phosphate), anti-caking agent (magnesium salts of fatty acids).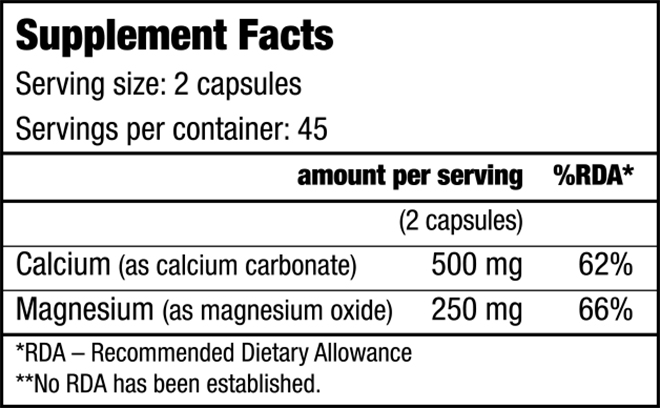 SANAPRO – 3G PERSONAL SRL distribuitor: BioTech USA | Brutal Nutrition | Devil Nutrition | Muscle Army USA |Muscle House | Scitec Nutrition | Strength Nutrition |
NOTĂ: Din cauza fuxului dinamic de marfă din depozit, pot apărea uneori situaţii când unele produse pot fi epuizate iar acestea nu vor putea fi livrate! In acest caz veti fi contactati telefonic sau prin email de un operator SANAPRO.