Descriere
Destress – complex de magneziu, vitamina B6 şi extract din plante pentru optimizarea funcţiilor sistemului nervos.
Utilizare: consumaţi câte 1 capsula zilnic, cu 30 de minute înainte de masă.
COMPLEX PRODUCT WITH A COMBINATION OF 3 HERBAL EXTRACTS, MAGNESIUM AND VITAMIN B6 TO OPTIMISE THE FUNCTIONING OF THE NERVOUS SYSTEM.
PACKAGING
Per serving (1 capsules):
100 mg magnesium,
1.4 mg vitamin B6,
100 mg valerian (Valeriana officinalis root extract),
100 mg lemon balm (Mellissa officinalis leaf extract),
100 mg hop (Humulus lupulus leaf extract).
Stress is a part of modern man's everyday life. Every stimulus we are exposed to triggers a stress response in our body. With strong positive (eustress) or negative (distress) stimuli, stimulus responses can be rather intense. The key is adaptation, which is the same with any stimuli, only the extent and the duration differs. A continuous and "unmanaged" state of stress may cause harm to the nervous system, upset hormones and lead to digestive problems. There are several ways to handle stress regularly. Besides doing forms of exercise which support both body and soul, such as yoga or tai chi, as well as other sports, using the appropriate dietary supplements can also greatly contribute to normalising the nervous system.
The magnesium and vitamin B6 content of Destress contributes to the normal functioning of the nervous system and to maintaining normal psychological function. Vitamin B6 contributes to regulating hormonal activity.
Stress relief with magnesium and vitamin B6.
Vitamin B6 and magnesium improve general well-being.
Like all BioTech USA products, Destress consists of safe and carefully selected ingredients
DIRECTIONS: Take 1 capsule daily 30 minutes before meal.
INGREDIENTS: Magnesium oxide, Valerianaofficinalis root extract, hop (Humulus lupulus) cone extract, lemon balm (Melissa officinalis)leaves extract, capsule shell [(gelatin, purified water, colour (titanium dioxide)], bulking agent(microcrystalline cellulose), anti-caking agents (magnesium stearate, silicon dioxide),pyridoxine hydrochloride.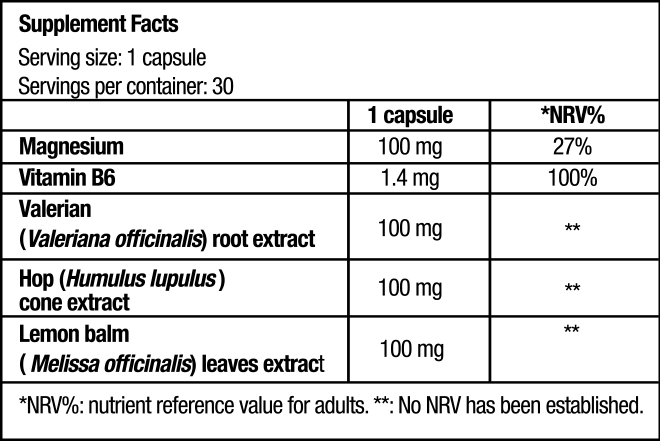 SANAPRO – 3G PERSONAL SRL distribuitor: BioTech USA | Brutal Nutrition | Devil Nutrition | Muscle Army USA |Muscle House | Scitec Nutrition | Strength Nutrition |
NOTĂ: Din cauza fuxului dinamic de marfă din depozit, pot apărea uneori situaţii când unele produse pot fi epuizate iar acestea nu vor putea fi livrate! In acest caz veti fi contactati telefonic sau prin email de un operator SANAPRO.