Descriere
Oat & Nuts – Oat bar with a high dietary fibre content and crunchy oily seeds.
Due to its oat content, the bar contains slow digesting carbohydrates. The oily seeds also add essential fatty acids and other useful nutrients to the ingredients.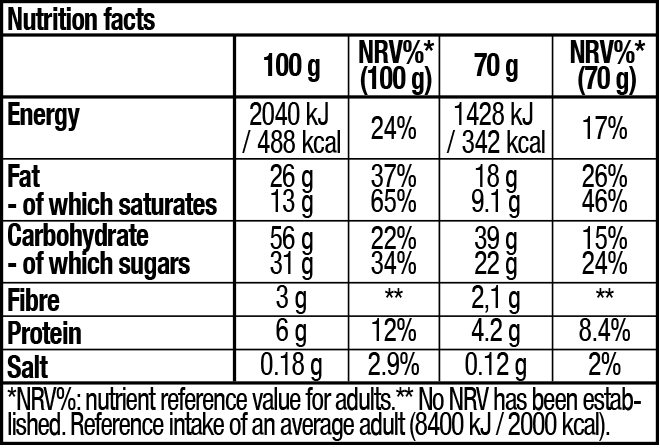 Directions: Consume before workout or to replace minor 'in-between' meals.
Ingredients: Pecan- walnuts: oats (38%), nonhydrogenated vegetable margarine, invert sugar syrup, raw cane sugar, pecans (5%), walnut (3%), vegetable glycerine, soy flour, aroma.

SANAPRO – 3G PERSONAL SRL distribuitor: BioTech USA | Brutal Nutrition | Devil Nutrition | Muscle Army USA |Muscle House | Scitec Nutrition | Strength Nutrition |
NOTĂ: Din cauza fuxului dinamic de marfă din depozit, pot apărea uneori situaţii când unele produse pot fi epuizate iar acestea nu vor putea fi livrate! In acest caz veti fi contactati telefonic sau prin email de un operator SANAPRO.